At TZ Medical, our Core Values define who we are. One of those values is Building Community Through a Positive Company Culture That Gives Back. We are always looking for new ways to serve our community, locally and across the nation. Since our foundation over 30 years ago, TZ Medical has been continuously searching for new ways to help out the community and organizations near and dear to our hearts. TZ encourages each employee to look for opportunities to serve and to share those with the company.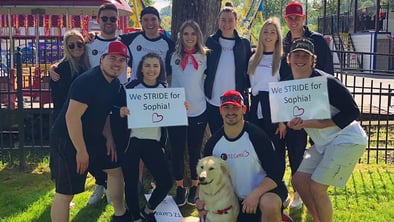 In 2019, TZ Carez was established as a formal avenue for service and raising money and awareness for organizations that need assistance. We are grateful for the community around us and the opportunities it allows for service. One of our first and most loved initiatives was The Great Strides Walk for Cystic Fibrosis. This cause is very personal to TZ Medical, and we were excited for the opportunity to raise awareness and funds. As a company, we raised just over $2,000 for the Cystic Fibrosis Foundation. Since then, we have been trying to repeat our efforts for this organization and other organizations in which we find a lot of value.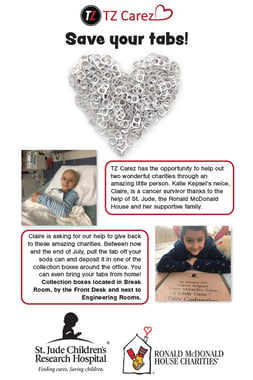 "Working with TZ Carez has been so wonderful! My niece is a patient at St. Jude Children's Research Hospital and was collecting can tabs for a fundraiser. All I did was mention it to the TZ Carez team and they jumped in with both feet. The next day there were posters hung, boxes decorated and emails sent. Within a month, I was able to send Claire a large bag of tabs collected from the office and many employees' homes. She was overjoyed and everyone had so much fun helping her. TZ was also generous enough to donate additional funds to St. Jude in Claire's name. TZ Carez is one of the best organized, happily participated in-service groups I've ever seen. Thank you." - Katie Kepsel, TZ Culture Committee Team Member
Another project that TZ Carez tackled was a park restoration near our main office in Portland, OR. It turned out to be a lot of fun picking up garbage and doing yard work. These projects are just the beginning of what we want to accomplish to give back to the community. TZ Carez has participated in multiple food drives, fundraisers for charities, and collaborations with other organizations such as Doernbecher Children's Hospital, Hunger Fighters, St. Jude Children's Research Hospital, and Great Strides.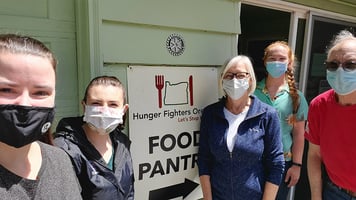 "We want to thank TZ Medical for their amazing work in pulling together a recent food drive! Altogether, they worked to deliver 22 large boxes of food and supplies. This event wouldn't have been possible without the collaboration of the TZ Medical team." - Hunger Fighters Oregon
The ever-present and ongoing fight against COVID-19 has presented a need to support the people and families that have been hit especially hard by the pandemic, whether financially, mentally, or physically. COVID-19 has presented us with the chance to help our community and other charities fight this battle, and we hope to provide support in many ways.
TZ Carez began as an opportunity to give back to a world in need but found that each chance to make the world a better place helped us grow individually and as a company. We are in the business of helping people, and thanks to TZ Carez, we have been able to accomplish that on an even larger scale. We hope that TZ Carez will continue to be able to provide support to the community around us in the future. If you or anyone you know would like to partner with us here at TZ Medical on a project or fundraiser of any kind, you can contact us at TZ Medical's Website. We would love to learn how we can work together to improve our community.