Monitoring exposure to scatter radiation continues to be a focal point of concern within the healthcare industry when you consider the possible long-term side effects on medical staff and patients. Historically, healthcare facilities have addressed these issues by implementing new protocols and standardizing their imaging departments with the proper radiation protection equipment. However, in the ever-changing landscape of medical technology, there are multiple opportunities to improve staff safety through new product development and innovation. An area that TZ Medical takes seriously.
There are many radiation sources in the medical field, but one of the most intense and powerful tools commonly used is fluoroscopy. Fluoroscopy is utilized in multiple departments throughout the hospital, during diagnostic and interventional procedures. Much like an X-ray "movie," a high wave of energy is passed through the body to capture the continuous movement of anatomical structures. While fluoroscopy is an effective and essential imaging tool, there are multiple downsides of increased exposure to scatter radiation. Protective equipment like lead aprons, lead gloves, safety goggles, and bedside shields are incredibly effective in their ability to reduce exposure from direct, secondary, and scatter radiation and long-term effects such as cataracts and left side brain tumors. However, enhancing radiation protection is a never-ending endeavor for medical professionals. Thanks to advances in modern technology, healthcare specialists now have access to multiple tools that provide additional protection along with their current equipment.
TZ Medical recognizes the risks that physicians and healthcare professionals take when using imaging equipment daily; many of our radiation protection products are ideas brought to us by these healthcare professionals. Recently we've seen rapid growth in the sale of these products and the quality and ingenuity of new ideas for protection.
The TZ Medical Comfort Shield is a versatile mobile shield that provides radiation protection in areas that currently lack additional equipment. Physicians will perform procedures on the right side of the bed in most hospitals due to the imaging equipment being on the left. Thus, lead shielding typically comes installed on the right side of the table. Unfortunately, this shielding does not accommodate circulating staff members or left side procedures like left radial access, pacemakers, or ICD implants. There are a variety of portable and mobile shields, which do not require installation to protect staff in various areas during procedures. Studies have shown that mobile radiation protection shields can decrease the effective radiation dose to medical staff by more than 90% when used correctly.
TZ Medical's Comfort Shield, in conjunction with the Comfort Cradle arm boards, is a simple solution that attenuates 98% of scatter radiation at 80 kVp on the right and left sides of the bed. The shield slides over the lip of the arm board, offering additional protection above the operator's waist. In a recent Cath Lab Digest article, "Occupational Hazards in The Cath Lab - Physician Protect Yourself," references suggest that high levels of pelvic radiation exposure are attributed primarily to the proximity of the operator's pelvis to the radiation source. When the operator's pelvis is level with or slightly higher than the table, the Comfort Shield can offer even more protection.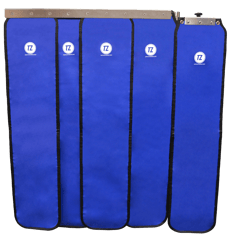 While known for our innovation, TZ Medical also understands the value of improving current equipment. The URPro is an example of that. TZ Medical listened to frustrations concerning replacement cost, wear and tear, and cleanliness and created the URPro Lead Panels. The URPro was uniquely designed to match the MAVIG bedside drape frame system and allows the replacement of single panels or the entire system. We understand the importance of cost-effective solutions that fit the budgets of healthcare facilities, and that's why the URPro is a long-lasting solution that won't break the bank.
TZ Medical has listened to many stories shared by healthcare professionals about their frustrations and hesitations when dealing with radiation and knows that protection from radiation is an area of concern for all physicians and staff in the healthcare system. History has shown that the long-term effects of radiation exposure can negatively impact one's health and well-being. TZ strives to solve issues brought to us by professionals in the healthcare industry by taking action and providing novel solutions to hospital staff wanting better protection from the harmful effects of radiation.
Klein, MD, L. W., & Campos, MD, E. P. 2018, February. Cath Lab Digest. https://www.hmpgloballearningnetwork.com/site/jic/articles/occupational-hazards-cath-lab-physician-protect-thyself.