The Outpatient Endovascular and Interventional Society (OEIS) demonstrates the market distribution and procedure volume of the Top 5 States in the US.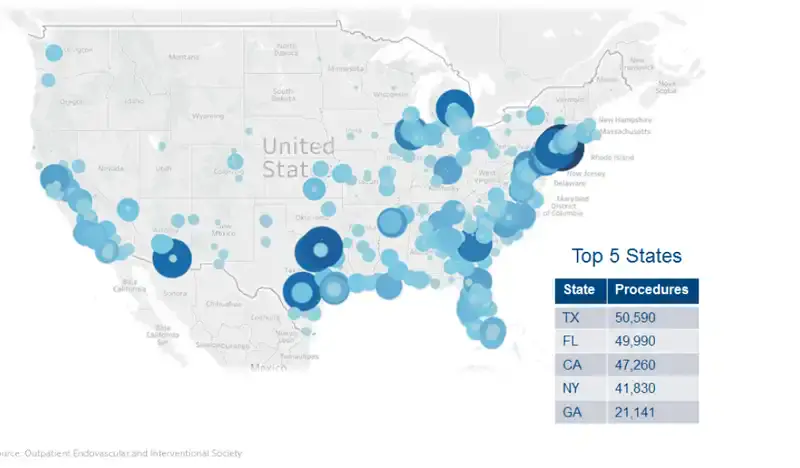 Over the past two decades Office-Based Labs (OBL), also called Office Interventional Suites (OIS), have waxed and waned. This has often been due to changes in reimbursement, physician employment, regulatory restrictions and referral pathways. Ambulatory Surgical Centers (ASC) have also followed a similar trend.
In recent years there has been a consistent growth in the number of OBLs and ASCs. Many factors have contributed to this growth. Physicians increasingly feel as though they have a lack of control over their schedule and how they practice, a lack of input into the decisions made on medical equipment, an increasing requirement to participate in time-consuming meetings (regulatory, quality, strategic), and a lack of alignment with the Cath lab operations.
Additional positive shifts in reimbursement from both federal and private insurance to encourage outpatient care have fostered the decision by a growing number of physicians to establish their own OBL centers. There are also "hybrid" centers emerging, which are a combination of OBL and ASC services utilizing the same space. The goal for these types of physician-led centers is always centered on improved patient access, reduced cost, and increased patient satisfaction. With an overall global reimbursement payment for OBL services, physicians are also incentivized to operate at the highest quality with the lowest cost of services. It is clear that OBL and ASC facilities are here to stay.
In addition, the following two images, sourced from the company Grand View Research, offer a picture of the national market share and the past and predicted future value of these specialty labs.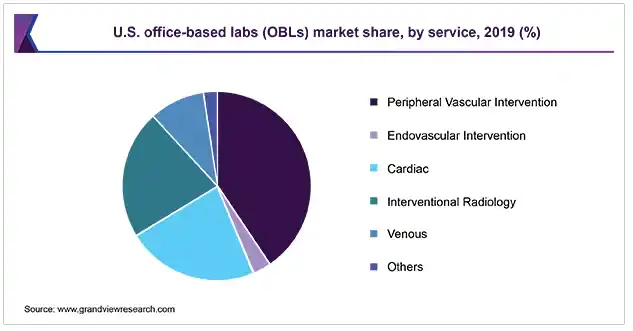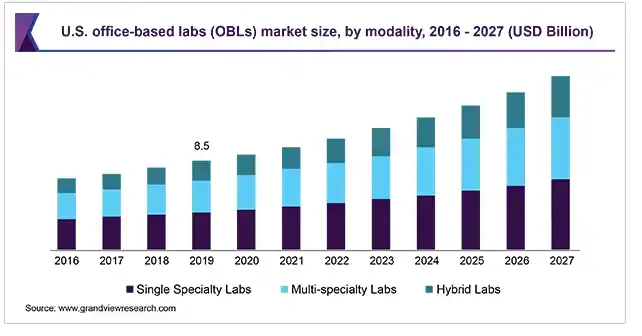 –Dan Scharbach
INDEPENDENT HEALTH CARE CONSULTANT AND PAST PROVIDENCE HEALTH SYSTEM REGIONAL DIRECTOR
References:
Outpatient Endovascular and Interventional Society. "Office-Based Labs: Trends & Best Practices" www.pvpodium.com, PV Podium, https://www.pvpodium.com/practice-resources/office-based-lab-resources/Office-Based-Labs-Trends-Best-Practices.html
Grand View Research. "U.S. Office-based Labs Market Size, Share & Trends Analysis Report By Modality (Single Specialty Labs, Hybrid Labs), By Service, By Specialist, And Segment Forecasts, 2020 – 2027". December 2020. https://www.grandviewresearch.com/industry-analysis/office-based-labs-obl-market.