Prioritizing Same-Day Discharge in the Cath Lab During COVID Pandemic
In the midst of the global COVID pandemic, resource limitations present new challenges for healthcare facilities to maintain staff and patient safety, while limiting "elective" procedures that require extended patient recovery. With limited staff availability and overall bed space, reducing hospital stay for patients is a high priority for many hospitals. More importantly, the drive to improve operational efficiency through the use of same-day discharge (SDD) has never been more important with the increased risk for patients and staff contracting COVID-19 during longer recovery times.
In a recent editorial regarding a panel discussion during the Virtual Transcatheter Cardiovascular Therapeutics TCT conference¹, a group of clinicians and administrators were asked to share their thoughts on the opportunities surrounding the use of same-day discharge (SDD) and provide insight on key aspects for developing an efficient SDD program. The collective response from these individuals reflected unanimous support for SDD due to the reduction of procedural cost, increased patient satisfaction, and more importantly, limited exposure of COVID-19.
Successful Same-Day Discharge with Radial Approach
Radial access has become the preferred alternative to the femoral approach due to multiple advantages including cost reduction, increased patient satisfaction, and decreased length of stay post-procedure. When combined with SDD, comprehensive research has shown that there is a significant reduction in procedural cost when compared to femoral access and non-same-day discharge (NSDD). In a 279,987 PCI patient study conducted by Amin et al², transradial intervention (TRI) was performed in 25,301 cases with 3,424 (13%) of those cases resulting in SDD. Transfemoral Intervention (TFI) was performed in 254,686 cases with 11,388 (4.4%) resulting in SDD. The most common care pathway post-PCI was TFI with NSDD occurring in 86.9% (243,298) of patients. The adjusted cost associated with TRI and SDD averaged $13,389, while the cost associated with TFI and NSDD averaged $17,076, a difference of
$3689.
Maintain the advantages of going Radial by using Left Radial Access as the primary backup to Right
Radial.
Historically, right radial access is often the preferred approach due to common procedural setup and room configurations. Though hospital systems continue to improve efficiency through radial access, anatomical factors such as access site failure, radial artery spasm, radial and brachial loops, and tortuosity of the innominate trunk often lead to an increased rate of access site crossover to femoral.³ This can be potentially problematic as it increases procedure duration, radiation exposure, risk of vascular complications, and length of stay for the patient. In Richard Casazza's, MAS, RT(R)(CI)⁴ article on advancements of left radial access, adoption of the left radial approach is often less desirable due to the ergonomic constraints of performing left radial access from the right side of the table. However,
advancement of new technology and techniques have proven to enhance operator efficiencies, potentially making the left radial approach as easy as going right.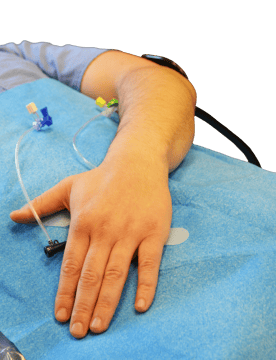 Among the newest technological advancements, the StandTall™ Sheath Extender by TZ Medical, Inc. provides an innovative solution to simplify procedural setup while enhancing operator ergonomics during left radial approach. Dr. Ryan D. Madder (Section Chief of Interventional Cardiology and Director of the Cath Lab at the Frederik Meijer Heart & Vascular Institute, Spectrum Health, Grand Rapids, Michigan) is one of many physicians to experience the clinical efficiencies when utilizing the StandTall™ for left radial access. In an interview conducted in 2020⁵, Dr. Madder explains that prior to utilizing the StandTall™, 80% of his PCI cases were performed through radial access and 20% were performed through femoral access, many of which were cases involving patients who previously had bypass grafts.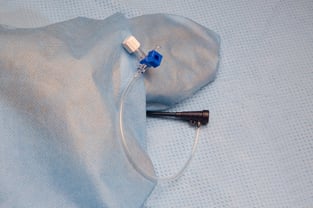 "In the past, I had utilized left radial access intermittently, but it was not routine for all patients with bypass grafts because of the risk of back injury that can result from leaning over the patient." – Ryan D. Madder, MD
When describing his experience using the StandTall™ for bypass cases, Dr. Madder added that the device has made it more comfortable for operators to use left radial access due to the reduced risk of back injury caused by leaning over the patient. Additionally, for the calendar year of 2019, Dr. Madder saw a 15% increase in radial cases by adopting a left radial first approach rather than crossing over to femoral.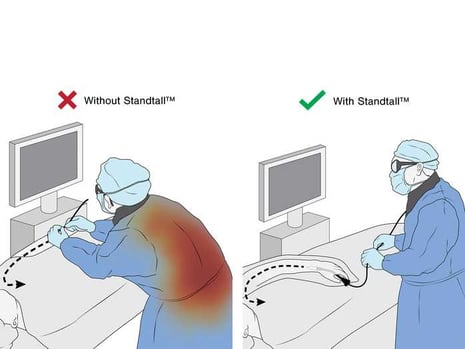 Conclusion
Same-day discharge plays a critical role in maintaining hospital resources while enhancing staff and patient safety during the global COVID pandemic. Though SDD can be achieved for PCI patients through multiple approaches, historical data supports a higher success rate through transradial intervention (TRI) as opposed to the transfemoral approach. The introduction of new technologies, such as the StandTall™, allows facilities to adopt a "left radial first" approach as an alternative to right radial access, improving rates of SDD while maintaining the clinical and economical benefits of TRI.
The StandTall™ is an intuitively designed external vascular sheath extender that conveniently redirects workflow to the right side of the procedure table and allows the patient's hand to stay pronated for more optimal positioning. As a result, operators are able to maintain visualization of the access site while reducing fatigue and musculoskeletal stress often caused by leaning over the table. For more information, visit www.tzmedical.com.
References:
¹ Clifton, Gary. "Same-Day Discharge: If Not Now, When?" Cath Lab Digest, November 2020.
https://www.cathlabdigest.com/content/same-day-discharge-if-not-now-when.
² Amin AP, House JA, Safley DM, et al. Costs Associated With Access Site and Same-Day Discharge Among
Medicare Beneficiaries Undergoing Percutaneous Coronary Intervention: An Evaluation of the Current
Percutaneous Coronary Intervention Care Pathways in the United States. JACC Cardiovasc Interv. 2017 Feb, 10 (4)
342–351.
³ Le J., Bangalore S., Guo Y, et al. "Predictors of Access Site Crossover in Patients Undergoing Transradial Coronary
Angiography". Am J Cardiol. 2015 Aug 1; 116(3): 379–383.
⁴ Casazza, Richard. "Distal Left Radial Artery Approach for Cardiac Catheterization: Advancements in Ergonomics
With Techniques and Technologies." Cath Lab Digest, January 2019.
⁵ Madder, Ryan D., "Increased Operator Comfort During Left Radial Intervention With StandTall Sheath Extender".
Cath Lab Digest. March 2020.